Uncategorized
Hacks for Holiness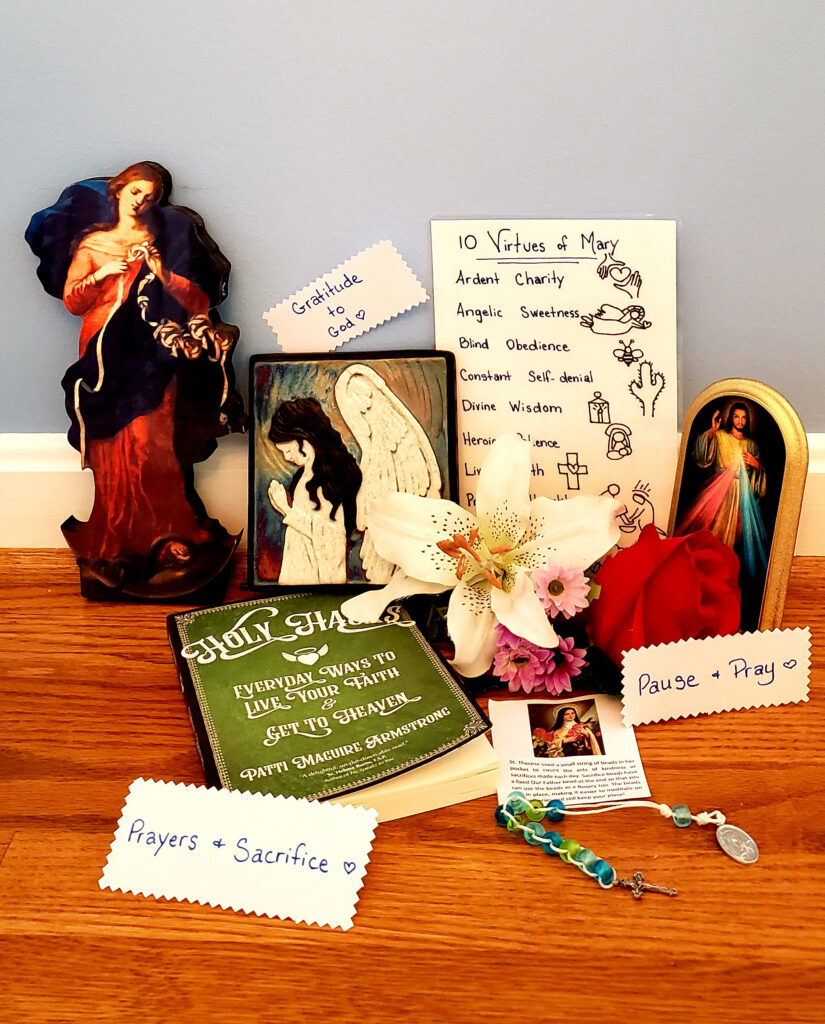 Dear Friends in Christ, I am overjoyed to welcome many new subscribers! God meant for us to stick together and to help each other get to Heaven. I am so grateful to share this journey with you!
I don't know about you, but I love lists that help me do something better. For example, 10 ways to organize your pantry. Ahem, still working on that one, but you know what I mean. 🙂 When I recently ran into the book, Holy Hacks, I was all over it. It's a great gem filled with ideas to incorporate holiness into your everyday life by Patti Maguire Armstrong.
As we enter the beautiful season of Advent preparing for our Savior's birth, I thought I would share some ideas from her book and a few of my own.
From Holy Hacks:
1. Vow to make one sacrifice a day, no matter how small, and join it with a prayer. It is a powerful force.
2. Abstain from complaining, not even about the weather.
3. Talk to your Guardian Angel every day.
4. When driving and in your day-to-day interactions, pray for the people who irritate you. It makes God happy and you holy.
5. Payback a favor with an hour at Adoration.
6. Every night before going to sleep, ask God to help you forgive others.
7. Practice the pause. When angry, pause. When unsure of what to do, pause. When tempted to gossip, pause. And when you pause, pray!
8. Get prayers for your intentions from the professionals. There are many cloistered nuns wanting to pray for you, just search the internet.
9. Praise and thank God every day and through the day. Say a gratitude Rosary and mention something you are grateful for on each "Hail Mary."
10. Whenever you are in a line, pray for the people ahead of you.
Hacks From Various Well-Known Catholic Folks from the book, Holy Hacks:
"Whenever I recite a St. Gertrude's prayer for the release of holy souls, I also ask the souls who were just released to intercede for a specific intention." Susan Brinkmann, O.C.D.S., director of communications and New Age research at Women of Grace
"The Sisters of Life have a "Litany of Trust." I carry copies in my purse and give out with some abandon.  (Please see previous blogs posts, Litany of Trust- parts I & II) We're called to be disciples in the world. I've seen bishops give away books, prayer cards, and definitely prayers at restaurants. A family can do this too; anyone can. Overlook no one, and you will be gifted sometimes with seeing the face of God in gratitude and wonder and grace." Kathryn Jean Lopez, Senior Fellow at the National Review Institute
"I greet the guardian angel of the people I encounter throughout the day. I do this silently in my heart, and I try to do it before I greet a family/friend or stranger. Doing this, I enlist the help of their guardian angels, so that our conversation will bring us closer to heaven." Mike Aquilina, executive vice president and trustee of the St. Paul Center for Biblical Theology
"I make sure I start my day by offering God the first fruits of my time. Prayer needs to come first. This seems to have the effect of multiplying the time I have for people for the rest of the day, and it also enables me to enter into situations "armed" if you will. Take care of your body every day and do a daily work out. This eases stress and helps me get back to matters with more energy. Ask the Lord daily to show you who is calling out for your time and attention…and then do something somehow." Fr. John Riccardo, host of the Ave Maria Radio Show, Christ Is the Answer
Some Things That Have Helped Me:
1. Start the day with prayer, then the daily readings and reflection with My Catholic Life. (https://mycatholic.life)
2. Pray the Chaplet for the 10 Virtues of Mary as I get ready in the morning. (https://catholicexchange.com/imitate-our-ladys-ten-principal-virtues) (Sign of the Cross, Our Father, Hail Mary for each virtue, Glory Be, and Sign of the Cross)
3. Imagine the Blessed Mother handing me a white lily, a red rose, and a purple violet each morning. (Please see previous blog, "Light and Flowers")
4. Humbly ask the Holy Spirit to provide me the gifts/fruits I lack and to keep me far from sin. Implore Him to speak and act through me.
5. In times of stress, keep repeating, "Jesus, I trust in you, help me to trust you more." "Mary, Mother of Jesus, please be a Mother to me now." St. Mother Teresa
6. I try to remember that everything I do (whether good or bad) for others, I do onto Him.
7. I represent Jesus and He dwells within me, so I should be as pure, loving, and holy as possible.
8. Be quick to kindness and slow to anger! As St. Peter said, "Love covers a multitude of sins."
9. Memorize Bible verses and Saint quotes so you can pull them out as beacons of light to scatter any darkness that tries to envelop you.
10. Fill your mind, body, and soul with all that is true, lovely, pure, and honorable in God's eyes.
These are just a few thoughts, but I hope some of these hacks will spark in you a greater fire for holiness, as they have for me. Let me know if you have a hack – I would love to hear from you! Be assured of my prayers for you! God bless you and hold you close!